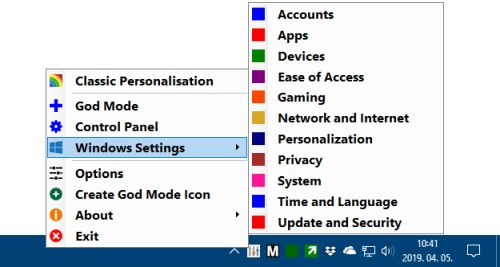 Win10 All Settings is a utility software that enables the use of different system settings. The main aim of the application is to help users customize Windows 10 in all circumstances with alternative configuration interfaces, and it can also perform some hidden settings. 

The software grants access to Windows Master Control Panel (God Mode), and categorizes the built-in settings of Windows 10.
The settings set by Win10 All Settings work based on the information published on Microsoft's websites. The operations that are often complex, involve several steps and require system level knowledge can be easily performed by anyone with Win10 All Settings.
Win10 All Settings primarily supports Windows 10 operating system. It works with limited functions on Windows 7/8 operating systems.

Advantages of Win10 All Settings:

Enables basic personalization options in all circumstances.
Provides easy access to God Mode.
Enables setting the color of Inactive Title Bar.
Provides easy access to the built-in settings of Windows 10.
Can start with the operating system (Autostart).
Supports Windows 10 operating system (partial Windows 7/8 support).
Doesn't require installation, free to use.

10


i. Unzip The Archive
ii. Read "Read" for installation instructions.
iii. Enjoy..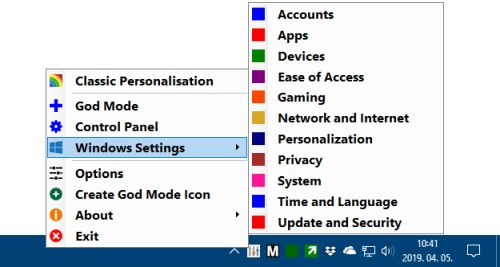 File Type: rar
File Size (mb): 1.1
Activation: Not Required | Freeware
Silent Intallers: no
Credits: Original Fathers
Use Downloader Multi Speed with IDM or Utorrent
Extract the zip file using WinRAR or WinZip or by default Windows command.,
Download in Here
Ultra ISO [Mount/Burn] + Rufus [Bootable]
 


If file has been deleted or removed,
Please let me know, I Resolved and works properly
Do not forget to share like and support always !!!
Enjoy and Support Developers, Buy It, They Deserved It!
Please chat Me on WhatApps Beside
Have a Request For Software
or Have a Problem?
If Required, Password: 123