Windows 8.1 with Update AIO (x86- x64)Program version: 6.3.9600.20094 / v21.08.10
Official site: MS
Build author: adguard
Interface language: English, Russian
Treatment: not activated,use any activator of your choice.
System requirements:
Processor: 1 gigahertz (GHz) or more.
Free space on hard disk: 20 gigabytes (GB).
Graphics adapter: graphics device Microsoft DirectX 9 or higher.
Additional requirements for using some features.
Description:
The assembly is based on the original images from MSDN. Updates up to August 10, 2021 were integrated, and SmartFix 2.3.15 and Microsoft DaRT were integrated. There are no cosmetic changes in it and nothing is cut!
Assembly features:
– Integrated updates until August 10, 2021;
– Integrated .Net Framework 4.8;
– Included .Net Framework 3.5 (including 2.0 and 3.0);
– Integrated SmartFix 2.3.15, Microsoft DaRT in winre.wim and boot.wim;
– The systems were not in audit mode.
List of windows editions available for installation:
Windows 8.1 Single Language x86-x64
Windows 8.1 x86-x64
Windows 8.1 N x86-x64
Windows 8.1 Pro x86-x64
Windows 8.1 Pro N x86-x64
Windows 8.1 Enterprise x86-x64
Windows 8.1 Enterprise N x86-x64
Windows Embedded 8.1 Industry Pro x86 -x64
Windows Embedded 8.1 Industry Enterprise x86-x64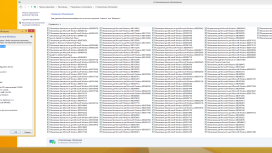 Checksums:
ru_windows_8.1_with_update_9600.20094_aio_18in1_x64_v21.08.10_by_adguard.iso-en
the MD5: b1768c259086a1ec0ee2621446258524
the SHA-1: 11d2ebced93da5cf09b179a526ef99cef7c60f89
the SHA-256: 9b5a8d25d9f6dc7a3bd7c118f01f913624e272d2d37f86ad94825729c81ba357
en-ru_windows_8.1_with_update_9600.20094_aio_18in1_x86_v21.08.10_by_adguard.iso
the MD5: 26ec8a8198a14372806006b4a49140d9
the SHA-1: d56c33f65b646a78d11011a2b46d95c1eb2514ea
the SHA-256: 7cdd9d4411c11abd2a2c3ec2b6440db1b45fbdd60764c92e8c8dac42dc062475