Windows 8.1 with Update AIO (x86-x64)
Program version: 6.3.9600.20303 / v22.03.09
Official site: MS
Build author: adguard
Interface language: English, Russian
Treatment: not activated ,use any activator of your choice
System requirements:
Processor: 1 gigahertz (GHz) or more.
Free hard disk space: 20 gigabytes (GB).
Graphics adapter: Microsoft DirectX 9 graphics device or higher.
Additional requirements to use some features.
Description:
The assembly is based on the original images from MSDN. Updates up to March 8, 2022 have been integrated, and SmartFix 2.4.4 and Microsoft DaRT have also been integrated. There are no cosmetic changes and nothing has been cut!
Build Features:
– Integrated updates for March 8, 2022;
– Integrated .Net Framework 4.8;
– .Net Framework 3.5 included (including 2.0 and 3.0);
– Integrated SmartFix 2.4.4, Microsoft DaRT in winre.wim and boot.wim;
– The systems were not in audit mode.
List of windows editions available for installation:
Windows 8.1 Single Language x86-x64
Windows 8.1 x86-x64
Windows 8.1 N x86-x64
Windows 8.1 Pro x86-x64
Windows 8.1 Pro N x86-x64
Windows 8.1 Enterprise x86-x64
Windows 8.1 Enterprise N x86-x64
Windows Embedded 8.1 Industry Pro x86 -x64
Windows Embedded 8.1 Industry Enterprise x86-x64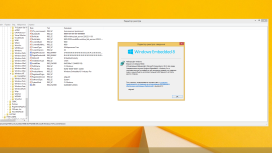 Checksums:
ru_windows_8.1_with_update_9600.20303_aio_18in1_x64_v22.03.09_by_adguard.iso-en
the MD5: 3482d9bdbcd5202df29999b08f7f0a9f
the SHA-1: 2ccfba2de423b22c59f4ea86622170eded1e4a29
the SHA-256: 2d69cb46fbf7fbe5600d91546ac8742abd315cac353ffc6ee9a6845a90206822
en-ru_windows_8.1_with_update_9600.20303_aio_18in1_x86_v22.03.09_by_adguard.iso
the MD5: b7098d6dff8a9aa7ac5d4b43c596aeef
the SHA-1: 9d097861c774e6258a4a55d5b941198ecb6f64da
the SHA-256: 45b8dec741ac6d9ce5e0e97a64607b1737ec56024e3a1291973c5fadaf00f380